~Baby Builders~
An exercise program by Jenna Zervas, MSPT
reviewed by Katrina Lybbert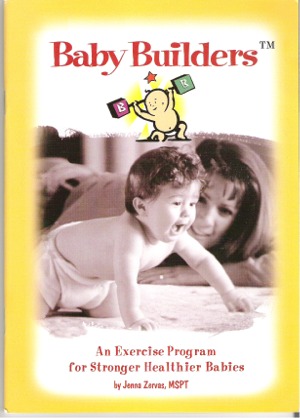 Baby Builders is an excellent, well designed exercise program for infants. The author, Jenna Zervas, is a pediatric physical therapist and has a wealth of knowledge to share with parents. She makes it easy for everyone to learn what to do to develop strong, healthy babies. All babies will benefit from this program when followed correctly.
The earlier you begin this program with your baby the better. Jenna explains how to know when a premature infant is ready for this program. But you can definitely be working through the exercises in this book by the time your baby is 3 months of age. Since my nursery curriculum for infants begins at 3 months of age, that is the starting point to use this program in my curriculum.
The program will take you through the following developmental stages: strength, movement, balance and coordination. Each stage builds on the previous stage. You will find a list of what your baby should be able to do after completing each stage. It is really quite simple to do and book explains everything so well. It comes with a companion VHS or DVD. Both are essential for success.
I highly recommend this program to all parents.
To learn more about the program, book & DVD, and find purchasing information... visit the author's web page at:



Copyright © 2000 - 2007 Katrina Lybbert. All rights reserved.
Email: webmaster@letteroftheweek.com
http://www.letteroftheweek.com