Brightly Beaming Steps to Reading Program
Preparatory Curriculum
Adaptable for Ages 2 - 4
by Katrina Lybbert

"My Learning Poster"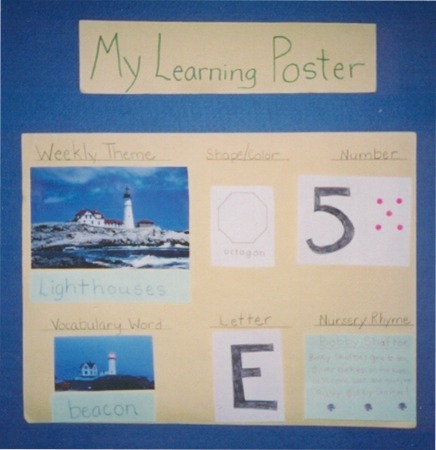 (The poster shows the concepts for Lesson 5)

"My Learning Poster" is a special project to complete for your child as you go through the preparatory curriculum. As you can see in the picture above, of Lesson 5, there is a space for the weekly theme, vocabulary word, shape/color, letter, number, and nursery rhyme each week. By keeping this poster in a highly visible place, your child will be reminded often of the concepts you are trying to teach.
Write the headings for each section of the curriculum on a nice size poster board as shown. (The headings are: Weekly Theme, Vocabulary Word, Shape/Color, Letter, Number, and Nursery Rhyme.) Starting with week one you will put up a picture of the weekly theme (cows) and the vocabulary word (calf) on Monday. On Tuesday add a picture of the shape (square). On Wednesday add a drawing of the week's letter (A). On Thursday add the number (1) and on Friday add the Nursery Rhyme (Hey Diddle Diddle). By the end of the first week you will have a full poster. On the following week change the pictures for the weekly theme and vocabulary word on Monday, color in the shape on Tuesday, change the letter on Wednesday, change the number on Thursday and replace the previous week's nursery rhyme on Friday. Each concept should then be shown on the poster for a full week, only changing as you introduce a new concept.
To find good pictures of the weekly theme and vocabulary word for your poster, you can search at www.google.com on the image search. I usually find just what I need! Once you get to google be sure to click on Image and it will take you to the image search page. Have fun!
Here is a little closer up picture of the poster: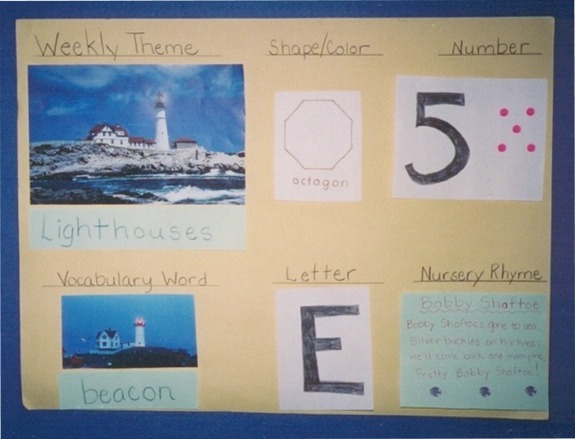 Copyright © 2000 - 2004 Katrina Lybbert. All rights reserved.
Email: webmaster@letteroftheweek.com
http://www.letteroftheweek.com